american bank's history
American Bank is a locally-owned and operated Montana bank with branches in Bozeman, Livingston, Whitefish, Big Timber and Big Sky. We're proud to have served Montanans for more than 70 years.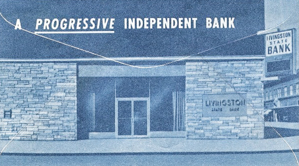 1947
bank established
Claude R. Erickson founded Livingston State Bank in June of 1947. Claude was known for his firm handshake and his favorite saying, "Shake the hand of the honest man." 
American Bank is still owned by the Ericksons, the same family who opened Livingston State Bank in 1947. Claude's grandchildren, Tyler and Taylor, are both on the board of directors, and Tyler works in the bank today. We remain dedicated to caring for our customers, employees and communities.